If there are free and cheap options, why should I pay for hosting?
YOUR URL LOOKS PROFESSIONAL
If I hosted my site on WordPress.com, visitors would have to type in www.WordPress.com/Spiezz to access my site. It looks like you are running a business in your basement over the weekends.
If you want to be perceived as a pro- act like a pro!
SECURITY
Years ago, when I was new to the web game, I logged onto my site to find that someone had installed this skull with lightning coming out of it's eyes on my homepage.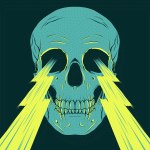 I had no idea how long it had been on there or how they got it there. Having tight security is important for many reasons, most importantly the integrity of your data- especially financial data.
Please don't make the mistake of thinking that hackers aren't interested in your site. They want ANY place on the internet that isn't traceable back to them. Consider it the cyber-version of someone sneaking into your house and setting up a meth lab in your spare bedroom.
PLUGINS ON PREMIUM SITES
Plugins are great little snippets that you can add to your site that give you increased functionality.
Want a little box to pop up that invites users to sign up for your email list?
Want to sell products or workshops automatically on your site?
These are both easily done with a plugin. There are thousands of plugins with varying functionalities that can really make your site much more than an online pamphlet.
In free sites like Wix or Squarespace, these are called "integrations" and usually have a monthly fee. It's typically a case of getting nickeled-and-dimed to death. The integrations all run from $15-$50 dollars a month and offer some expanded features that are freely available on an hosted site.
PROFESSIONAL EMAIL
Another thing that separates the pros is a domain-specific email. We can set up an alias for you.
USER REPORTS
Free sites offer very little in way of reports. Tons of visits could mean that your url is easily mistaken for someone elses, or it could mean that your advertising is working. Detailed reporting can tell stories of what value people are finding on your site.
SUPPORT
Isn't is amazing to send someone a quick email when there's something that needs to be fixed and changed on your site? Isn't it amazing to know that you don't have to think about that again?